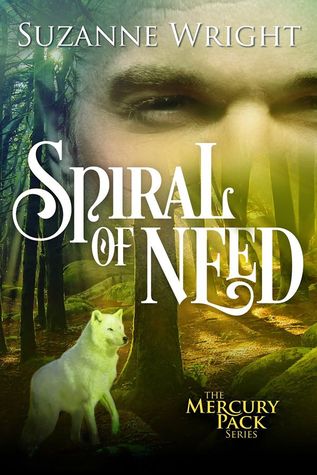 Title:
Spiral of Need
Series:
The Mercury Pack Book 1
Author:
Suzanne Wright
Add to
Goodreads
Ally Marshall isn't just a wolf shifter — she's a Seer.
But a girl doesn't exactly need special powers to know that Derren Hudson despises her entire kind. Disdain practically rolls off the Beta of the Mercury Pack . . . disdain mixed with a healthy dose of desire. And no matter how much the ruggedly handsome male appeals to her, this is one call of the wild she's determined to ignore.
After one betrayal too many, Derren doesn't have much use for Seers — except for Ally.
Forced into acting as her protector, he finds himself intensely and passionately drawn to the woman who incites his primal instinct to claim.
And when enemies target the pack, Ally's gift may be just what the Mercury Pack needs.
Can he put his distrust aside, or will he force himself to turn his back on the one woman who makes his inner beast howl?
~BUY LINKS~
Very important public announcement: Derren Hudson is mine, ladies! Paws off!
Spiral of Need is the first book in The Mercury Pack series, which is a spin-off of The Phoenix Pack series. It's not necessary to read The Phoenix Pack first, but I recommend it since those characters are also in this book.
Ally Marshall's pack is starting to turn against her. Her ex-boyfriend found his mate who is now Beta female, and also jealous of Ally. She accuses Ally of of attempted murder and tells the rest of the pack that Ally is jealous and lashing out. Now, Ally is in an unsafe situation and scared her Pack will fully turn on her and banish her.
Derren Hudson owe's a friend a favor, and he gives his word that he will pay it back. But when the favor that his friend wants is to take Ally away from her pack and protect her, he has to seriously think about turning his back on his friend. Ally is a seer, and ever since Derren was betrayed by a seer he has sworn to never trust their kind again. But he's a man of his word so he goes to Ally and gives her his protection. He never thought he would feel a connection to the seer, though, and isn't sure if he can fight the pull of her magnetic stare.
This was an amazing story and I loved seeing all the past characters from The Phoenix Pack series and getting caught up with them. Suzanne Wright is fast becoming my favorite paranormal author and I can't wait to see what she gives us next. The pack members are like a close family and I love the connection they all share. Each member is really different from the other's and they all have their own little quirks so it's great to see how they come together and somehow just fit perfectly.
I loved Derren and thought he was a wonderful character. He was super loyal to those he cared about and especially if he felt like he owed them, he would go out of his way to pay them back. He lost his pack when they turned their back on him when he was young, and he never really got over that. He has made his own family though and I thought it was great that he was able to find the right people for him.
Derren and Ally made a kick ass, yet adorable, couple and I thought they were perfect for each other. They both had past hurts that kept them from fully investing themselves in a relationship but their connections was just too strong to resit. Oh boy, did they try though. It took a lot for Derren to get over his hate of seer's but he quickly realized that Ally was different from all the others. It was great to see him come to that realization and how he admitted his own faults from thinking that.
Ally was a really strong character and I loved that she could fight like a bad ass. People were after her and the Mercury Pack but she never backed down from the fight. I really admired that about her. She suited Derren really well and they shared such heat, it was scorching right off of the pages.
Overall, loved the characters, loved the story, loved the suspense. Anyone looking for a sexy, intense shifter book stop whatever it is you're doing and read this book.
ARC kindly provided via NetGalley in exchange for an honest review.