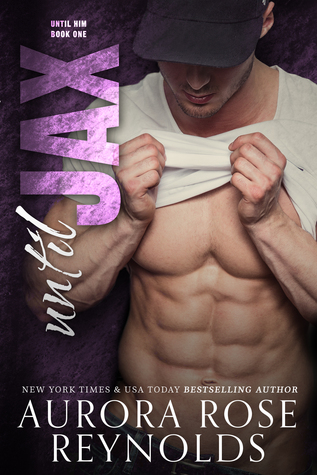 Title: Until Jax
Series: Until Him Book 1
Author: Aurora Rose Reynolds
Add to
Goodreads
*Synopsis*
Ellie Anthony isn't looking for love. She isn't even looking for a man, but when Jax Mayson insists on keeping her and her daughter safe, she's left with no choice but to trust him. Now she just hopes she doesn't get hurt when she falls hard for a guy who's known for breaking hearts.
Jax Mayson knows that Ellie is his BOOM the moment he sees her. When he finds out she has a daughter, he realizes he wants a family, and he will do whatever is necessary to keep both of his girls safe, even if that means facing the demons from his past.
~BUY LINKS~
Jax is a total alpha an I luv it the BOOM as his hit him with Ellie an when the BOOM hits the Mayson men it hits hard an Ellie isn't going 2 know what's hit but neither is Jax
Ellie as been through so much after being sold by her own mother the bitch but she got away an the Maysons are there to help her an her daughter Hope who is the most cutest kids ever but everything is moving so quick for Ellie after living life with nothing her dad who she luvd so much died when young an then her mother not giving a shit her bro died in a car accident things can't get worst but the Maysons want to give Ellie an Hope a good life an Jax wants them where he can see them there is still some of the men that took Ellie an others girls out there an Jax an his family r doing every thing they can to find these scum
Things do move quite quick with Ellie an Jax but after reading the other books from the first series this isn't a surprise but Ellie needs to think of Hope she is her main priority an nothing will get in the way of that but Hope is cute sassy an at 3 knows what she wants an can wrap anyone around her finger an I luv this about her but Jax wants Ellie an once the walls r down they r so good together but thing r not easy with whacky hook ups an totally bitchy ex's these things make Ellie doubt if she is doing the rite thing getting with Jax but the pull they have is so strong an helps them
Every person in the Mayson family is so good 2 the dad's mum's sis's bro's etc I just luv them there isn't a book I've not like from these people but this book was great the lil pieces we got that's coming in other stories is making me want them so much I was waiting ages for this book an I wasn't disappointed at al Ye there was bitches I really wanted to punch so bad I sometimes hate girls there just stupid but the relationship between these main characters an I m putting Hope in this as well this kids broke my heart with the way she was with Jax I just wanted to hug her
I would highly recommend this book an if u haven't read the others series do there so good there's drama seriously hot sexy time an really hot men an this book had al that an more I hated putting this down stupid sleep taking me away haha but really I luvd everything about this xxx
"You were made for me. You're everything I never knew I wanted."
Jax Mayson finds his boom when he meets Ellie while saving his cousin, July. Not giving her a chance to get away he moves her and her daughter in with him to give her a fresh start and immediately puts them in his family fold. Ellie has never been with a man like Jax before and isn't used to his Alpha, bossy ways so she has a lot of adjusting to do. But can she open herself up and let him in before it's too late and can Jax let go of his past and accept his future?
Jax makes me incredibly sad because once I finished this book and sat my Kindle down I had to come back to reality and realize that he isn't a real person, only a character. He was so badass Alpha at times but friggin' adorable at other times. Seriously, ladies, prepare to swoon every time you get a glimpse of Jax with Hope. That sweet girl had Jax wrapped around her little finger and he would do anything for her. I loved how he was so sweet and caring in his own possessive way.
Ellie was a sweet character and she fit in with the Mayson family perfectly. This author is one of the few that can write heroines that I don't hate and I am so grateful for that. Ellie wasn't some weak timid girl even though, after what she went through, no on would blame her. She never let her past keep her from moving forward, even when she was nervous about jumping into a life with Jax, and I really liked that about her.
I really enjoyed this book but it was no where near my favorite from this author. I just felt like there wasn't enough of the story that focused on Jax and Ellie, and I was really looking forward to that. Also, the ending seemed a little abrupt and wasn't resolved enough for me.
Even with the issues I had with the story, I loved the characters and thoroughly enjoyed reading this book. Until Jax along with this whole series and for anyone that doesn't plan on reading it, I'm not sure I can be your friend any longer.
So many little teasers about other characters were thrown in and I already feel myself starting to go crazy with need! June's book is up next but I need Sage's book like pronto.
ARC kindly provided by TRSOR Promotion in exchange for an honest review.