Title:
Surviving Ice
Series:
Burying Water Book 4
Author:
K.A. Tucker
Add to
Goodreads
Ivy, a talented tattoo artist who spent the early part of her twenties on the move, is finally looking for a place to call home. She thinks she might have found it in San Francisco, but all that changes when she witnesses a terrible crime. She's ready to pack up her things yet again, when a random encounter with a stranger keeps her in the city, giving her reason to stay after all.
That is, until Ivy discovers that their encounter wasn't random. Not at all…
~BUY LINKS~
Ivy Lee is back in San Francisco working at her uncles shop and, for the first time in her life, she's thinking of staying. Normally moving around from place to place and never making connections wherever she goes, the idea of sticking around is a little scary to her. But then things go horribly wrong and she's a witness to her uncle's murder and is now thrown into a world of deceit and crime.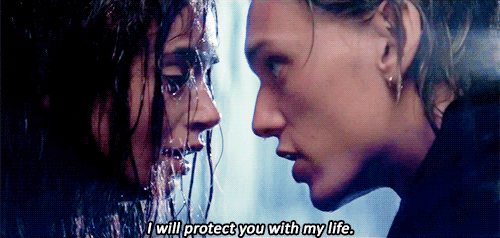 Sebastian works for a private security company that does things a little differently than the rest. The guys working for this company aren't always the good guys and they sometimes have to do things that not everyone is going to agree with. Sebastian's newest assignment is to get close to Ivy and find out what she knows about the secrets her uncle was hiding and if she knows anything than he has to eliminate the threat. But once he meets the mysterious Ivy, he knows he will never be able to hurt her.
This book really amped up the suspense aspect of this series and it was amazing. I loved how there was so much unknown going on and so many big decisions that had to be made. It was a nail biter, that's for sure. I was so concerned about what would happen by the end and I could not put this book down until I knew what would happen. I loved how there was suspense but that part of the book didn't take away from the romance at all. That didn't stop me from going a little crazy and trying to figure out what would end the story though.
The characters were amazing and I really enjoyed both Sebastian and Ivy. Ivy was really tough and had a 'I don't give a shit' attitude that wasn't just some front she put on for people. She was just really that strong. She did have a vulnerable side, though, and that side was so different and hidden for so long that when she finally let it show it was this explosion of emotions. Sebastian was there to help her though and I loved him for it. He had a really conflicting job and he himself had a hard time deciding if he was the good guy or the bad guy, but Ivy knew that he was the always on the good side, even when that meant doing things he didn't really want to.
Together Ivy and Sebastian and I thought they were perfect for each other. They both had those hidden emotions that they couldn't even let out around themselves but when they were together those emotions burst free. I can't say they were my favorite couple of this series but they are a close second and seriously hot!
Overall, I really enjoyed this book and this series and I want everyone I know to read. So watch out people because I may have to kidnap ya'll and force you to start this series!