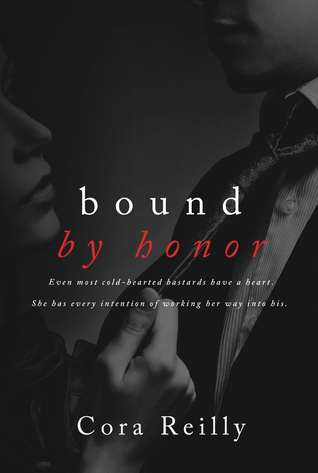 Title:
Bound by Honow
Series:
Born in Blood Mafia Chronicles Book 1
Author:
Cora Reilly
Add to
Goodreads
Born into one of the leading Mob families in Chicago, Aria Scuderi struggles to find her own path in a world where no choices are given. Aria was only fifteen when her parents betrothed her to Luca – The Vice – Vitiello, the oldest son of the head of the New York Cosa Nostra to ensure peace between the two families.
Now at eighteen, the day Aria has been dreading for years is looming dangerously: her wedding to Luca.
Aria is terrified of marrying a man she hardly knows, especially someone like Luca who got his nickname 'the Vice' for crushing a man's throat with his bare hands. Luca might be one of the most sought after men in New York thanks to his good looks, wealth and predator-like charisma that radiates power, but the society girls throwing themselves at him don't know what Aria does: that the bad boy aura isn't just a game; blood and death lurk beneath Luca's striking gray eyes and arrogant smile.
In her world a handsome exterior often hides the monster within; a monster who can just as easily kill as kiss you.
The only way to escape the marriage to Luca would be to run away and leave everything she's ever known behind but Aria can't bear the thought of never seeing her family again.
Despite her fear, she decides to go through with the marriage; Aria has grown up among predators like Luca and knows that even most cold-hearted bastards have a heart and she has every intention of working her way into Luca's.
~BUY LINKS~
At fifteen years old Aria is given to Luca Vitiello to be his bride and to close the gap between two mob families. Their wedding is set for when Aria turns eighteen so for three years she waits to seal her fate as a pawn in her father's game.
Luca and Aria marry in a lavish wedding with both of their families present and tie the two together in the name of marriage. Aria doesn't want to the wife of the next in line to be Capo dei Capi and certainly doesn't want to be bound to Luca 'The Vice' Vitiello, a man who got his nickname after crushing a guys throat. But she'll have to learn to live with him so she takes advice from her cousin and sets out to make Luca love her.
Luca, Luca, Luca - I'll marry you! Luca was so badass and a little scary and relentless in his search for power. He's yet another Hero that I should steer clear from in real life, but in the book world I will jump him like a pogo stick. I loved how tough he was and even when he was being a major ass I could see that, underneath that hard shell, he was hiding a soft side.
Aria was an okay character but wasn't really anything special. I'm glad that I didn't hate her, which I was nervous about because I don't always like the shy, virgin type heroine. I did want her to get more of a backbone and stand up to Luca but she wasn't so shy and scared that I wanted to slap her. I count that as a win.
I loved the story and the unconventional romance within a Mafia family. I did want to see the Grace issue resolved at the end but that was my only issue. I can't wait to see what else is in store for us in this family but all I'm saying is, Gianna is going to kick some ass. This was my first book by Cora and I'm really mad at myself for not reading this sooner but I will not be making that mistake again - on to the next one!