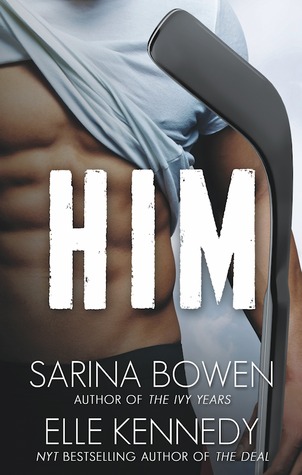 Title: Him
Authors: Sarina Bowen & Elle Kennedy
Add to
Goodreads
They don't play for the same team. Or do they?
Jamie Canning has never been able to figure out how he lost his closest friend. Four years ago, his tattooed, wise-cracking, rule-breaking roommate cut him off without an explanation. So what if things got a little weird on the last night of hockey camp the summer they were eighteen? It was just a little drunken foolishness. Nobody died.
Ryan Wesley's biggest regret is coaxing his very straight friend into a bet that pushed the boundaries of their relationship. Now, with their college teams set to face off at the national championship, he'll finally get a chance to apologize. But all it takes is one look at his longtime crush, and the ache is stronger than ever.
Jamie has waited a long time for answers, but walks away with only more questions—can one night of sex ruin a friendship? If not, how about six more weeks of it? When Wesley turns up to coach alongside Jamie for one more hot summer at camp, Jamie has a few things to discover about his old friend...and a big one to learn about himself.
Warning: contains sexual situations, skinnydipping, shenanigans in an SUV and proof that coming out to your family on social media is a dicey proposition.
~BUY LINKS~
Wes an Jamie an have been friends 4 yrs they went 2 hockey camp every summer together an they had the best time they were roommates every yr after a lil drunken fun things happened an Wes thought he had wrecked his friendship with Jamie so he left an decided 2 just no talk 2 him cause he thought he wrecked there friendship so he hadn't replied 2 any of Jamie's emails calls an messages an Jamie was wondering what had happen he hoped it wasn't what they did on that drunken night cause that would b stupid but Wes thought other wise
After not seeing each other in yrs they would finally c each at a hockey game they would b facing each other but things needed 2 b said about what was going on an about what happened the summer but once they got talking everything just fell back together but feels Wes as 4 Jamie were just as strong an Jamie was starting 2 feel something 2
Wes is an amazing character an so is Jamie they r both smoking hot an even hotter together an they r so good together 2 after they had there talk there feelings start going a lil crazy Jamie realized that his feels 4 Wes r stronger than he thought an that night yrs ago was 1 of the best he had an he wanted more an they would b spending the summer together now they were both coaches at the camp they were once at as kids it was time 2 say what needed 2 b said but like alway it's never easy 2 say how u feel
These 2 characters were so hot together I luvd how there relationship got stronger an seein how Jamie was falling 4 Wes was so great an I just luv Jamie's family there so supportive of his life an job it's just so good see them both get support Wes's father is just a total Jack ass didn't like him at al
I've only read 1 M/M I know I m bad haha but I have 2 say this was amazing I luvd it from the first page I've read Elle Kennedy before but not read any of Sarina Bowen book but that's going 2 change I really hope they do more books together an more M/M
I highly recommend this it's hit hit a great story an the characters r just amazing xxx
Ladies, make sure you have extra panties because these boys will melt them right off of you!
Jamie and Wes were best friends growing up. They only saw each other every summer at hockey camp, but kept in touch all year round. But when a bet leads to an encounter neither of them were ready for, Wes can't handle it and stops talking to Jamie. Now, years later, they are both graduating college and heading to the NHL. When they see each other for the first time in years, their friendship quickly comes back together, but so do other feelings.
Him
is a collaboration from Elle Kennedy and Sarina Bowen, told in dual POV. I hope this isn't their only book together because it was
hot!
I loved both Jamie and Wes and was cheering them on throughout the book. Wes had come out years before this but Jamie was just realizing he was attracted to men. It was great to see how different they both were past the similarities they shared.
They both have a great future ahead of them but are afraid that being openly gay in the NHL. With so many fears about their relationship they have a lot to work out but they have each others backs. I loved how loyal they were to each other. After so many years apart they were able to jump right back into their friendship and it was amazing to see that they still cared for each other even after not seeing or speaking to each other for years.
They were so sexy together and I wanted more of them. The chemistry they had was hot and sweet and I just loved it. Overall, this was a cute, sexy book that I think everyone needs to read. Seriously, I recommend this for anyone who like m/m and if you've never read m/m before then this can be your introduction to it!