In honor of the big game tonight here are some of our favorite sports Heroes!
Finlay Thatcher is a lost soul, guilt-ridden after the death of her twin brother. When Alabama's football coach gives her the opportunity to work for him, she knows it's her chance to move on, even if it means living her brother's dream.
Caden Brooks is Alabama's star quarterback. He's got it all. The attention of adoring fans. A girlfriend who'd do anything to hold on to him. And a future in the pros. He's getting along just fine until Finlay steps into his life, despising him at first sight and pushing his buttons like no other.
Unfortunately for Finlay, and her attempt to keep Caden at arm's length, there's nothing Caden loves more than a challenge. The problem with this challenge is she comes with a secret that has the power to destroy everything.
What he wants he gets...
Knox Masters is a quarterback's worst nightmare. Warrior. Champion. And...virgin. Knox knows what he wants--and he gets it. All American Football player? Check. NFL pros scouting him? Check. Now, he's set his sight on two things. The national title. And Ellie Campbell. Sure, she's the sister of his fellow teammate, but that's not going to stop him. Especially not when he's convinced Ellie is the one.
...but he's never met her before.
But Ellie isn't as sure. She's trying to start a new life and she's not interested in a relationship...with anyone. Beside it's not just her cardinal rule of never dating her brother's teammates that keeps her away, but Ellie has a dark secret that would jeopardize everything Knox is pursuing.
Knox has no intention of losing. Ellie has no intention of giving in.
She's always played it safe…
College junior Lucy Washington abides by one rule—avoid risk at all costs. She's cautious in every aspect of her life, from her health, to her mock trial team, to the boring guys she dates. When a brash, gorgeous jock walks into the campus coffee shop and turns his flirt on, Lucy is stunned by the force of attraction. For the first time ever, she's willing to step out of her comfort zone, but can she really trust the guy who's determined to sweep her off her feet?
He's always played around…
Entering his last year of college eligibility, linebacker Matthew "Matty" Iverson has the team captaincy in his sights. And it's his for the taking, if he can convince his quarterback Ace Anderson to give up the starting position. Luckily, Matty already has an edge—the hottie he's lusting over just happens to be Ace's childhood best friend. Getting Lucy on his side and in his bed? Hell yeah. Matty is more than confident he can have both, but when he falls hard for Lucy, it's time for a new game plan: convince the woman of his dreams that she's not sleeping with the enemy.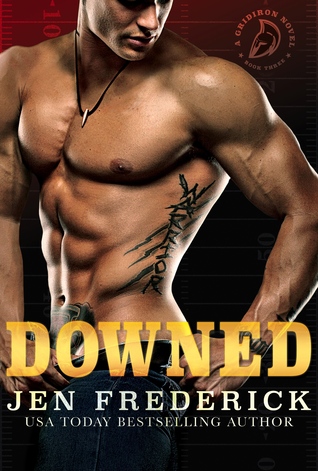 He's the guy no one likes…
Despite winning two national championships, JR "Ace" Anderson was sent packing from his old school after losing the trust of his coach. At Southern U, he has a second chance to prove that his college legacy isn't endless debauchery and selfishness. But his reputation precedes him, and his teammates offer a chilly welcome in the locker room. The one person who is willing to accept him is the very woman he should stay away from—his new coach's daughter.
She's the girl everyone loves…
Bryant Johnson's only goal in life is to make others happy, even at her own expense. One look at her father's new star quarterback, and she knows that Ace is her next project. With a reputation for being a "jerk whisperer", Bryant has spent her last three years at college reforming sorry behavior and turning bad boys into the best boyfriends ever. In Ace, though, she's met with surly resistance and a sizzling attraction she doesn't expect. Fixing this wounded warrior will be her biggest challenge yet. Not falling for him will be even harder.
Between her big heart and his damaged one, a battle is ensuing. In this game of love, every defense will crumble.
Their chemistry on the field is undeniable. But can they ever be more than friends?
Jason Hawkins is about to throw the biggest Hail Mary pass of his career.
If he can't turn NFL recruiters' heads this year, he'll lose his shot at the one thing he's ever been good at. But every quarterback needs a man he can count on down-field. For Jason, that man just might be the Tigers' new receiver, Derek Griffin.
Four years ago, Derek nearly lost everything after being outed by his teammates.
Now he finally has a chance to get it all back as a walk-on for Eastshore College... if he can resist his immediate attraction to the gorgeous and very straight star quarterback.
An instant connection during practice leads to an easy friendship that only grows stronger off the field. Derek is convinced friendship is all it'll ever be, but a very confusing moment of impulse leaves both of them fumbling for answers about their relationship.
As curiosity gives way to passion and passion gives way to something deeper, Jason and Derek will have to tackle their own personal demons to bring home the win and earn their happy ending.
College football's most notorious tight end wants to show her that everything's bigger in Texas.

Cassie

I can't stand jocks. And I don't know the first thing about football.

So it's just my luck that the tutoring job I take to get me through graduate school involves making sure a dumb jock passes his classes.

Now, I'm babysitting Colton King, a spoiled arrogant player who's as famous for his bedroom antics as he is for his football skills.

The tight end with the filthy mouth tells me he'll show me that everything's bigger in Texas.

And heaven help me, I just might be considering it.

* * *

Colton

My life is one big party, and that's never going to change.

Not even if my coach finds me a nerdy tutor he thinks will keep me in line.
Miss Goody Two Shoes is uptight, high-strung, and unimpressed by the fact that I'm a campus legend.

Even worse, the hot little tutor is as pure as the driven snow.

Debauching her and making her mine is the ultimate challenge. And I always rise to the occasion.
A beard-related dare and one hot-as-hell kiss changes everything.
NFL center Ethan Dexter's focus has always been on playing football and little else. Except when it comes to one particular woman. The lovely Fiona Mackenzie might not care about his fame, but she's also never looked at him as anything more than one of her brother-in-law's best friend. That ends now.
Fi doesn't know what to make of Dex. The bearded, tattooed, mountain of man-muscle looks more like a biker than a football player. Rumor has it he's a virgin, but she finds that hard to believe. Because from the moment he decides to turn his quiet intensity on her she's left weak at the knees and aching to see his famous control fully unleashed.
Dex is looking for a forever girl, but they live vastly different lives in separate cities. Fi ought to guard her heart and walk away. But Dex has upped his game and is using all his considerable charm to convince Fi he's her forever man.
Game On