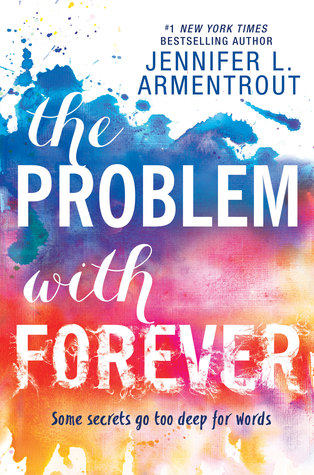 Title:
The Problem With Forever
Author:
Jennifer L. Aremtrout
Publication Date:
May 17, 2016
For some people, silence is a weapon. For Mallory "Mouse" Dodge, it's a shield. Growing up, she learned that the best way to survive was to say nothing. And even though it's been four years since her nightmare ended, she's beginning to worry that the fear that holds her back will last a lifetime.
Now, after years of homeschooling with loving adoptive parents, Mallory must face a new milestone—spending her senior year at public high school. But of all the terrifying and exhilarating scenarios she's imagined, there's one she never dreamed of—that she'd run into Rider Stark, the friend and protector she hasn't seen since childhood, on her very first day.
It doesn't take long for Mallory to realize that the connection she shared with Rider never really faded. Yet the deeper their bond grows, the more it becomes apparent that she's not the only one grappling with the lingering scars from the past. And as she watches Rider's life spiral out of control, Mallory faces a choice between staying silent and speaking out—for the people she loves, the life she wants, and the truths that need to be heard.
This is exactly how I'm feeling now that I have finished reading this book. This story was such a surprise and it is definitely one of the best books I've read this year so far!
Four years ago, Mallory Dodge's life changed forever. Four years ago, she was separated from the guy who meant everything to her, her savior. She would never think that she would see him again, but there he is, Rider Stark, at her public school, and it feels like no time has passed..but will they be able to let go of the past and move forward with their life?
WOW!! Let me tell you, I went into this blind and I was blown away!
Despite the fact that my favorite book ever is a YA book, I'm not really used to reading books in this genre. But this is Jennifer Armentrout, and I 100% trust her. And I'm glad I did, because this story was AMAZING!
It was such a beautiful, touching story. I couldn't stop smiling and swooning because the love between Mallory and Rider was so pure that nothing else mattered. It's that kind of love so powerful that can overcome every obstacles.
"Love was the swelling, hopeful feeling in my chest every time I saw him. Love was the way I could forget about everyhing when I was with him. Love was the catch in my breath when he looked at me in his intense way. Love was the gasp he could draw out of me with the simplest of touches. Love was the way I could... I could be myself around him, know that I didn't need to be perfect or worry about what he was thinking, because he accepted me. And all of that?
Love scared the hell out of me."
Rider was amazing, the way he protected Mallory touched my heart and I fell in love with him from the first moment we met him. He was caring and there was no doubt about his deep, true feelings for her.
Mallory had her very difficult battles to fight and I felt close to her. I wanted her to get better and improve and to take back control on her life.
I strongly recommend this book. It left me with such a happy feeling in my heart and I'm sure this story will stay with me for a long time. It's one of the best ya books I've ever read and I hope you consider it because this story needs to be read! I'm looking forward to reading more YA books by J. L. A. and I hope she will give Hector his own story!