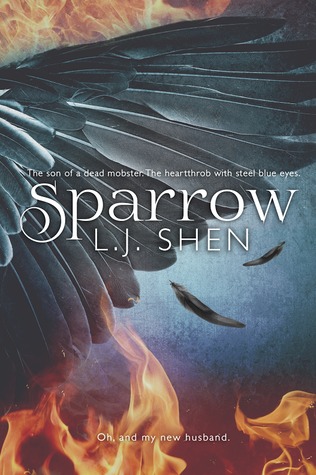 Troy Brennan
Every southie in Boston knows that name. The son of a dead mobster. The heart throb with steel blue eyes. "The Fixer" who can make or break you in this city.
Oh, and my new husband.
Sparrow Raynes
That's me. No one seemed to remember my name up until he barged into my life.
But then he caged me.
Kidnapped me.
And killed every chance I had to runaway from the place where we grew up.
Put simply, Troy Brennan clipped my wings.
I have dreams, big ones, but I doubt he'd ever let me chase them. I have no idea why he'd decided to take me as his wife. But I do know this: pissing off this man will not do me any good. At all.
Sparrow is a standalone, full-length novel. It contains graphic violence and adult situations some may find offensive.
~BUY LINKS~
Troy Brennan is not a nice man, and the residents of South Boston know to stay clear of his path if they want to keep their life. Troy's name is synonymous with death for those that cross him, so they stay away. But for Sparrow Raynes, she didn't have that option since Troy came looking for her. Somehow she finds herself married to him, and trapped in a life she wants no part of, and has no idea how she started living.
When LJ Shen asked if I wanted to review this book I jumped on the chance. The blurb had me hooked right away and I couldn't wait to find out more about Troy and Sparrow. I was not disappointed at all, and I'm really glad I read this rollercoaster of a story. There was a lot of pain, angst, lust, and emotions that were involved in this story.
I was a little nervous about Sparrow because I don't like weak, shy type heroines that much, and I didn't want her to be the type that just bows down to Troy, but she was the complete opposite. She had her innocent moments, and there were times when she wasn't too sure of herself, but she also had a backbone. There were many times that she stood up to Troy even though he was this scary mob guy that basically kidnapped her. I loved that about her, that she stood up for herself and had some fight in her.

Troy wasn't an easy man to like, and the majority of this book I actually really wanted to punch him in the face. But there were parts of him that I loved, especially when he showed how much he wanted to protect Sparrow. He may not have openly showed how he cared for her, but in his own, bloody, way he did, and that's what made me swoon over him.
Sparrow was the perfect mix of sweet vs. dark, and I applaud the author for being able to take such different characters and make them into this explosive mix that just worked together, somehow. I would have liked if I got to see the connection that Troy and Sparrow had earlier into the book, because I was waiting for it, but when I finally got to see it, my amount of love for this book went up even higher.
Overall, this is a book worth reading. It was my first read by this author but I already plan on going back and reading her other book, because she's got herself a new fan now! I highly recommend Sparrow for my fellow mafia lovers, and anyone that likes a heroine with backbone that isn't afraid to go against her stubborn husband.
L.J. Shen lived all over the world and finally settled in Northern California, mostly because of the wine. She writes for a living and reads for fun. She is a proud mommy of a son and a former-stray cat, and an Okay-wife to a very patient husband.
Hit her up on Facebook:
https://goo.gl/kI15Wx
And Twitter:
https://twitter.com/lj_shen
And don't forget to follow her Amazon Author page to get the newest releases:
http://goo.gl/KWNdU9