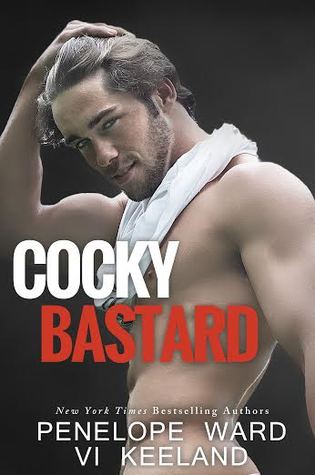 Title: Cocky Bastard
Author: Penelope Ward & Vi Keeland
Add to
Goodreads
*Synopsis*
He was someone who belonged in my wildest fantasies instead of a rest stop in the middle of Nebraska.
A sexy, cocky, Australian named Chance was the last person I expected to run into on my cross-country drive.
When my car broke down, we made a deal. Next thing I knew, we were traveling together, spending sexually-tense nights in hotels and taking unplanned detours.
My ordinary road trip turned into the adventure of a lifetime. It was all fun and games until things got intense.
I wanted him, but Chance wouldn't make a move. I thought he wanted me too, but something was holding him back.
I wasn't supposed to fall for the cocky bastard, especially when I knew we'd be going our separate ways.
All good things must come to an end, right?
Except our ending was one I didn't see coming.
~BUY LINKS~
Aubrey is moving to California, she's now single and she wants to start a new chapter of her life. During her long road trip, she meets Chance, aka Cocky Bastard.
For a fortunate train of events, they end up on a road trip together.
They spend some amazing days together, but what will happen when they'll be forced to go separate ways?
The first part of the book was really good! Chance was so funny and I cracked up at his comments!
Part two..
What happened to all the fun? The story took another turn and I wasn't pleased with it.
It seemed like I was reading another book! I didn't see the connection between the two parts..
Part one was great, enjoyable and so funny..part two just didn't hold my interest.
This book, though, had a secondary character that I really loved...the goat!
Overall, I liked it, I just wished the story took another turn.