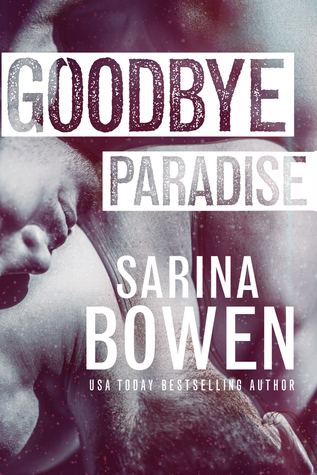 Title: Goodbye Forever
Series: Hello Goodbye Book 1
Author: Sarina Bowen
Publication Date: March 21, 2017
Most people called it a cult. But for twenty years, Josh and Caleb called it home.
In Paradise, there is no television. No fast food. Just long hours of farm work and prayer on a dusty Wyoming ranch, and nights in a crowded bunkhouse. The boys of the Compound are kept far from the sinners' world.
But Joshua doesn't need temptation to sin. His whole life, he's wanted his best friend, Caleb. By day they work side by side. Only when Josh closes his eyes at night can they be together the way he craves.
It can never be. And his survival depends on keeping his terrible desires secret.
Caleb has always protected Josh against the worst of the bullying at the Compound. But he has secrets of his own, and a plan to get away — until it all backfires.
Josh finds himself homeless in a world that doesn't want him. Can Caleb find him in time? And will they find a place of safety, where he can admit to Josh how he really feels?
Warning: Contains a hot male/male romance, copious instances of taking the Lord's name in vain, and love against the kitchen counter. This book was previously released under the title: In Front of God & Everyone.
Goodbye Paradise shocked me with how much I enjoyed it. In all honesty I was nervous that it would be too involved in religion being that it was about members of a cult. But I had nothing to worry about because that wasn't the case at all. The main focus was on Caleb and Josh, and the cult just happened to be where they came from. I was happy that it didn't have too much of an impact on the story.
Though, it certainly had an affect on these characters but the author wrote them in such a way that the troubles they had adjusting to life out of the cult only added to the story. I really liked that we got to see how Josh and Caleb helped each other and trusted one another a great deal. Neither of them had a problem needing help and I loved that about them.
Josh was the one that had a harder time getting used to life not led my the cult leaders. His struggles really made me like his characters because I loved seeing him push through and not give up. He was my favorite character out of the whole book and I just adored him.
Bottom line, this is a must read for all M/M lovers and I think most people will love these two together as much as I did.
Goodbye Paradise Playlist:
All We Know - The Chainsmokers
Faded On You Love - Griffin Stoller