Title: Every Little Thing
Series: Hart's Boardwalk Book 2
Published: March 7, 2017
Hartwell, Delaware—the perfect place to get away from it all, and find what you never knew you needed…
Bailey Hartwell has many reasons to feel content—her successful business, a close circle of friends, and her steady boyfriend…even if their romance feels staid after ten years without a serious commitment. The only challenge in her life comes in the form of sexy businessman Vaughn Tremaine. She thinks the ex-New Yorker acts superior and that he considers her a small-town nobody. But when Bailey's blindsided by a betrayal, she's shocked to discover Vaughn is actually a decent guy.
Vaughn admires Bailey's free spirit, independence, and loyalty. As his passion for her has grown, his antagonism toward her has only worsened. Every little thing Bailey does seduces him. But when Vaughn's painful emotional past makes him walk away in fear he will hurt her, it opens an old wound in Bailey, and she uncharacteristically retreats.
Once Vaughn begins to realize he's made the biggest mistake of his life, he has no choice but to fight like he's never fought before to convince Bailey that the love they've found together only comes around once in a lifetime.
I was so looking forward to this book. Vaughan and Bailey came crashing together in the last book The Line Real Thing which was brilliant by the way. There sexual tension was crazy. I thought they hated each other after the way Bailey was with him but you could see that there was something behind the arguments the horrible comments. So as you can tell I was dyin for this book.
Bailey is a brilliant character she would do anything for anyone she was so caring independent and very loyal. Everyone on the Boardwalk luvd her. Hartwell meant everything to her she had grown up there with her family and the inn where she worked and owned had been her mum and dad's both her. Bailey owns the inn with her to siblings Vanessa and Charlie but Bailey is the one that ran and put her blood sweat and tears into the place. Her brother and sister didn't want the inn. So they left it to Bailey to run and make it her own and she had done an awesome job. Until things on the Boardwalk changed and this is where Vaughan Tremaine came in.
Vaughan is a very successful business man from New York . He as a few hotels dotted around and he as worked hard to make they what they are today. They are all high class establishment. So when he moved to Hartwell didn't expect to get the the welcoming he got. Bailey didn't play nice with Vaughan she didn't like the way he came to the Boardwalk with his fancy hotel he was a threat to get business and she didn't like that and with her being the princess of the Boardwalk people listened. So there relationship wasnt great she thought he seen her as a nobody in a lil town. But after 10 years they both started seeing each other a lil different after someone had betrayed Bailey and Vaughan was there to help.
These two characters were great I really liked them. They are two very different people but made a great couple. It took them forever to realize this and I was dyin to shout at both of them in parts. They just needed to get there act together and stop thinking about there pasts and look what was in front of them. They were so hot together once they would let there guards down a lil. There attraction just got stronger and stronger for each other. It was getting harder to keep there guards up. But there past would always come and spoil things for them.
I really enjoyed this book. Once I started I could put it down it was so good. The story is just brilliant and it kept me in my toes throughout the whole and still left me wanting more from the rest of the characters. I m dyin to know how the next book is about. As you can tell I luvd the characters. I find this author really knows how give me great strong sexy protective men and Vaughan is one of these. I thought Cooper was hot from the first book but Vaughan was just as good. It was great to see his character change. This series is great and I just know the rest is going to be just as good I really can't wait for more I highly recommend it xxx
Every Little Thing is the second book in Samantha Young's Hart's Boardwalk series and not a book I thought I was going to survive waiting for. The story follows Bailey, Hartwell's golden girl, as her life takes a change. She's used to being content but she wants more, and that more comes in the form of Vaughn Tremaine. As much as she wants to hate him she just can't seem to stop admiring him from afar. Even when he's an ass towards her in order to push her away she still wants to know more about him. But Vaughn doesn't think he deserves something as good as Bailey and he may finally hurt her enough to where she won't accept him in her life.
Bailey had me intrigued from when we were first introduced to her in The One Real Thing because she was such a happy character and that didn't change in her own book. I loved that she had this infectious happiness about her that made me smile while reading her story. I liked that she never really lost that spirit of hers, even when life wasn't going exactly how she wanted.
Vaughn wasn't a character I would file away as an asshole-hero but he definitely had moments that I wanted to slap him. Then the other side of my brain would wake up and say "Hero being a jerk? I want him" I don't know what it is about these men in books that make me want to jump their bones when in real life I would be kicking them but I'm not going to argue with my needy side. But he wasn't just a jerk, he had a lot of sweet moments that made me swoon even more and I actually loved him with Bailey.
Overall, this is a great addition to this series and now I will sit here and patiently wait for the next. Did you believe that? Because I didn't, I'm going to be freaking out until I can get my hands on the next story! I think I know who it's going to be about and I'm so damn curious I could hunt this author down and force her to tell me if I'm right or not.
Hart's Boardwalk Book 1 Available Now: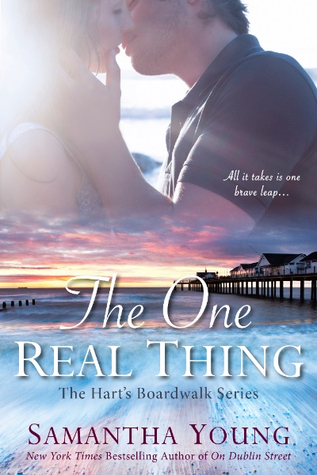 a Rafflecopter giveaway