The One Real Thing by Samantha Young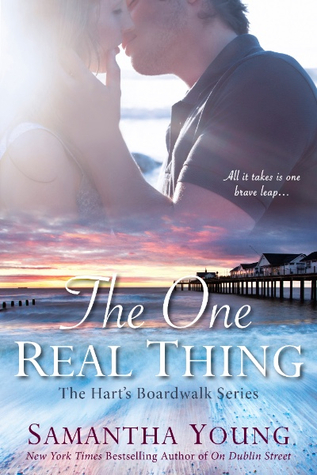 Welcome to Hartwell, a quiet seaside escape where uncovering old secrets could lead one woman to discover the meaning of a love that lasts…
While Doctor Jessica Huntington engages with the inmates at the women's correctional facility where she works, she's always careful to avoid emotional attachments in her personal life. Loss and betrayal taught her that lesson long ago. But when she comes across a set of old love letters in the prison's library and visits the picturesque town of Hartwell to deliver them to their intended recipient, she finds herself unable to resist the town's charm—and her attraction to the sexy owner of a local bar proves equally hard to deny.
Since his divorce from his unfaithful ex-wife, Cooper Lawson has focused on what really matters: his family and the boardwalk pub they've owned for generations. But the first time Jessica steps into his bar, Cooper is beyond tempted to risk his heart on her. Yet as their attraction grows hotter and Jessica remains stubbornly closed off, he begins to realize it will take more than just passion to convince her there's only one real thing in life worth fighting for.
I've read On Dublin Street years ago an I've loved everything that this author as done since so I was really dying for this book I got sucked into this straight away an I couldn't get enough the story it was great as was the characters I just know this series is going to b as good as On Dublin Street series
I loved Jessica's character she is so caring an kind an would do anything for anyone but she as been through something horrible she as built her walls so high its even hard for her to see over them she doesn't do relationships she as a fuck buddy that she as been with on an off an it works for her she's a doctor an very good at her job she now works as a doctor in a woman's prison an it ok she enjoys it but there is something missing in her life an when she finds some letters from an inmate in a book that was written years an years ago to the love of her life but she never got to send them an Jessica had to give these letters to this person she just seemed to get some sort of connection to these letters an she was going to do something about it so she took a vacation to Hartwell an this is whee her life was going to change when she meet the must sexiest man ever Cooper Lawson an boy is he sexy
Cooper as had to deal with a lot of crap in his life as well but life is going ok at the min but it just got a,whole lot better when he bumped into the beautiful Jessica like I said he as been through crappy stuff a divorce losing his mum and best friend so meet Jessica is the best thing but he had to work for it the one thing that worked for him was that he was loved by everyone in the small town of Hartwell an he does break down a bit of Jessica's wall but it's not enough they r so made for each other an work so well but there r some horrible people in Hartwell that well do anything to make it hard for these people an they have the good doctor an Cooper in there sights bastards
This story was just brilliant I didn't think the author could creates a better character then Braden Carmichael he is the most sexiest man ever but omg I think Cooper Lawson is amazing I luvd him straight away he is so sexy an the way he was with Jessica just amazing they were so good together but I enjoyed al the characters in this book an it's just made me want more I love Bailey's character she is so bubbly and her an Jessica r so funny at times but god she can b fiery at time an will kick ass if she as to I can't wait for her book I just know it's going to b great an after the lil teaser we got at the end of this book I just know it's going to be great why do I have to wait till March it's going to kill me
I highly recommend this book it full of everything if u liked On Dublin Street series then u will luv this an if u haven't read it seriously why not it's amazing xxx
The One Real Thing is Samantha Young's debut into a new series focused around a quiet seaside town in Delaware. The story follows Dr. Jessica Huntington to the town in hopes of giving truth to a man who has been without it for too long. Jessica works as a Doctor for prison inmates and while working she finds a series of letters from a past inmate who has passed away. Reading the letters, she learns the tragic past of the inmate and her one true love, and her heart breaks for the couple. She decides that the man needs to know what really happened, and is saddened that these letters were never sent to him. So she uses her vacation to go the small town of Hartwell and personally deliver the letters.
But Hartwell isn't just a tourist town, it's a town with a romantic history, and it's said that if you're destined to meet your own true love, it will happen on the boardwalk. For Jessica her world changes once she arrives in Hartwell and meets it's residents, making friends with almost everyone she comes across. And then there's Cooper, the bar owner with a chip on his shoulder about relationships. He wanted nothing to do with another relationship, not with the way his marriage ended, but Cooper just can't seem to get the sexy Doctor off of his mind and he's determined to make her give him a chance.
This story was equal amounts of sexy and sweet, and I loved the mix of emotions that was involved in it. There are many small town romances out there and it's something that I've read over and over again, so honestly it takes something extra special now for me to actually love it and not just enjoy it some. Well Ms. Young definitely put that extra dose of special into this story and I loved every minute of it. I can't even point one one reason why I liked it so much, it was just everything. The characters, the small town charm, the sexiness thrown in, even the bit of thrill brought on with the towns douche-bags. I just loved all of it!
Cooper, though, he was a big reason why I liked this book so much. He may have been burned in the past, and that certainly held him back some, but he never let his past hurts keep him from finding a future. The way he went after Jessica and made her realize that life had so much more to offer than just being content was swoon worthy. I already want to re-read this book just for him.
Overall, this book was amazing and something I will strongly recommend. The mix of characters kept me intrigued and I already can't wait for the next book to see what's going to happen with town and people.