The first in a sexy contemporary romance series featuring the Lawless siblings—from New York Times bestselling author Lexi Blake.
The Lawless siblings are bound by vengeance. Riley, Drew, Brandon, and Mia believe the CEO of StratCast orchestrated their parents' murder twenty years ago to steal their father's software program. And there's only one way Riley can find some solid evidence...
Heir to the StratCast legacy, Ellie Stratton hires a new attorney to handle a delicate business matter—and she's shocked by her attraction to him. Over the course of a few weeks, Riley becomes her lover, her friend, her everything. But when her life is threatened, Ellie discovers that Riley is more obsessed with settling an old score than in the love she thought they were building. And Riley must choose between a revenge he's prepared for all his life and the woman he's sure he can't live without...
Pre-Order Now
Excerpt
"Why did you do that?"

It was the first time she'd spoken without being prompted. "Do what?"
Her face flushed the sweetest pink. The color went all the way down that sexy V-neck. Her breasts flushed as well as her face, and it made his damn dick tighten. "Kiss me. Why did you kiss me like that?"
Oh, so many reasons, but he gave her the most compelling one. "I wanted to."
The minute she'd opened the door and he'd seen her standing there looking anxious, he'd known how to calm her down. All he'd had to do was put his hands on her and some odd connection flared between the two of them. She hadn't fought him. He could have gone on kissing her. He'd been the one to pull away.
It was like the minute he walked in, he was the only thing that existed for her. It made him feel ten feet tall, but it also made him want to please her.

It was an unsettling sensation.

Her hands came up, fingers on the sides of the table. "You know what I'm asking. You knew I wasn't alone. Why did you pretend to be my boyfriend?"
It was easy to see she'd wanted him to wait for her at the restaurant so as to avoid him meeting her sister and ex. When she'd opened the door, he'd immediately known something was wrong. He'd gotten a glimpse of her sister and known Ellie had likely needed a hand. It had to be tough on a woman's ego to lose even a pathetic excuse of a husband to a younger sister.
"You were alone with your sister who slept with your husband. Excuse me. Ex-husband."
She shook her head. "At the time, we were definitely married. How did you know he was my ex-husband?"
"He took half your net wealth. I'm your lawyer. At this level, a good lawyer is less legal counsel and more war consultant. I can't properly perform my duties if I don't know everything about you, including the fact that you tend to have terrible taste in men."
She frowned. "I haven't had a ton of boyfriends. I'm not sure what my taste is."
He really wanted to understand why she'd married that obvious prick. "What attracted you to him? Because from where I was standing, he looked like a dickwad desperate to be twenty-one again."
She bit into her bottom lip, her eyes glancing away from him. "He wasn't always like that. I actually met him when he was twenty-one. He was far more mature then."
He liked her candor. "You were in college?"
"Last year of undergrad. We dated for two years and then it seemed like it was time to get married. We'd moved back here to Manhattan so I could take my place at StratCast. I thought he was going to go to grad school, but he decided on a different path."
"What path was that?"

A single brow rose over her right eye. "You don't know?"

Of course he knew. He knew everything. "Are you referring to your ex-husband's penchant for swinging for the fences? When it comes to investments, that is."
It was what he liked to call "idiots who funded ridiculous ideas." They never wanted a simple profit out of their money. They wanted millions and really fucking fast. They swung for the grand slam when all they needed to do was get on base.
It took a true genius to take a single idea and make millions off it. Drew had.
Her shoulders straightened. "He wanted the easy solution. A get-rich-quick scheme. He wasn't that way at first. At one point he was very intellectual. It's what attracted me to him. He was curious about the world and liked to discuss everything from politics to social jus- tice to movies we saw. He changed. I didn't. In some ways, I blame getting involved with me for what happened to him. He got around my father and real wealth and wanted some of his own. When I met him, he wanted to be a professor. He wanted to teach."
At least he'd gotten her this far. She was talking. Now he needed to get those shoulders down from around her earlobes. For one moment, for that moment when he'd drawn her into his arms and pressed his mouth to hers, she'd relaxed against him, given over to him. Her body had softened and she'd leaned into him, and if he'd pressed her, he didn't know what would have happened. She might have continued kissing him, forgetting all about the other people in the room. He could have cupped her breast, her ass. Put his hands anywhere he liked.
She hadn't given a damn that they hadn't been alone. All she'd cared about was him.
I had to wait until my brain stopped screaming "This is the best!" before I could even attempt to write this review. Not only was I super excited to get more of the Lawless family, but I was extremely happy with the story Lexi Blake delivered to us. I loved Riley and Ellie!
Ruthless is the start to the Lawless series which follows Riley, Drew, Brandon and Mia Lawless as they attempt to get revenge on those responsible for their parents' death. When they were kids they never believed the cops had the full story, which was that their father murdered their mother and attempted to kill all of them too. Now that they're older and they have the money to fund their vengeance they're ready to take down those responsible.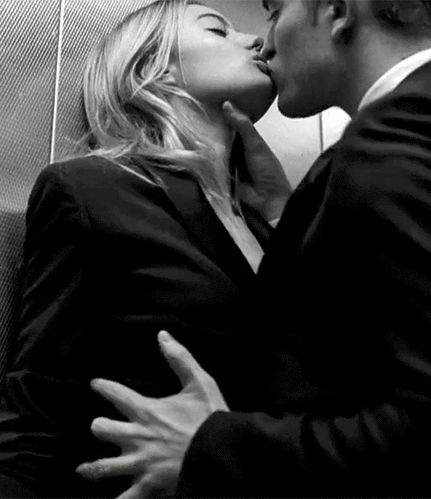 Ellie Stratton is prepared to inherit StratCast and take over running the company after her father's death. She hires Riley as her lawyer to get everything prepared, not knowing the danger she's bringing into her company. Her father was one of the people responsible for the death of his parents, and Ellie unknowingly plays right into the Lawless siblings' trap. But while Riley is working with Ellie, and working against her, he gets to know the woman she is and he's not sure if he can betray her like planned.
Riley, oh Riley. He's my new fantasy man. So ladies, back up because I am prepared to fight for him! He was everything I could possibly want in a book boyfriend. He had the intensity, the sensitivity, the sexiness, and the passion for doing what was right. Just perfect is how I would describe his character. We slowly got to learn about his life growing up after his parents' death and some of it broke my heart, but it also made me admire him for becoming so successful after all of that.
With this book, you didn't just get a romance between two characters, you got this whole world of corporate espionage that kept you in suspense the entire time also. There was a lot happening throughout it, but the book never got to be too much, instead everything that was happening just added to the story to make it better. And woven in between the big Lawless plan was the parts with Ellie and Riley that made my heart skip a beat. The late night dinners at the office they shared, the flirting, it was all just wonderful.
Bottom line, Ruthless is a must read. I promise you that you want to meet these characters and you will love at least most of them. Brandon is the more laid back brother and, so far, my second favorite. His story is next so I'm very much excited for that. Drew is the hard character to like, but once I was able to learn a little more about him I changed my opinion about him. I can't wait for his book, because I know there are definitely going to be some surprises he has in store for us. Really, I'm just too excited to even handle this series.
NY Times and USA Today bestselling author Lexi Blake lives in North Texas with her husband, three kids, and the laziest rescue dog int eh world. She began writing at a young age, concentrating on plays and journalism. It wasn't until she started writing romance and urban fantasy that she found the stories of her heart. She likes to find humor in the strangest places and believes in happy endings no matter how odd the couple, threesome, or foursome may seem.