A smokin' hot British player…
A jilted girl…
One night of mistaken identity…
★★ PURCHASE Filthy English Today!★★
*A modern love story inspired by Romeo and Juliet*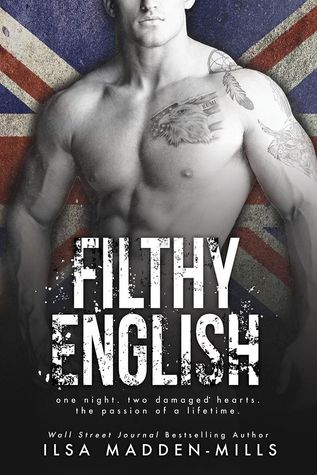 Two weeks before her wedding, Remi Montague's fiancé drops her faster than a drunken sorority girl in stilettos. Armed with her best friend and a bottle of tequila, she hops a plane to London to drown her sorrows before fall semester begins at Whitman University.
She didn't plan on attending a masquerade party.
She sure didn't plan on waking up next to the British bad boy who broke her heart three years ago—the devastatingly handsome and naked Dax Blay. Furthermore, she has no clue how they acquired matching tattoos.
Once back at Whitman together, they endeavor to pretend they never had their night of unbridled passion in London.
But that's damn hard to do when you live in the same house…
One night. Two damaged hearts. The passion of a lifetime.
Their love was forbidden, her an Omega sister, and him a Tau frat boy. And they found out the hard way that a relationship would never work between them. But years after their fling-gone-wrong, Dax and Remi still think of each other and it's not always bad thoughts. When Remi goes on her honeymoon, without the groom, to London she only plans on getting very drunk and forgetting about the fiance that dumped her two weeks before the wedding. She never thought she would run into Dax, though, and now she has much wilder plans. Plans that include the forbidden boy she's willing to break all the rules for.
A hot British bad boy, a wild vacation in London, and so much sexual tension you could feel it coming off of the pages. What else could a romance reader ask for? I loved these characters together and was rooting for them the moment we got the first scene with both of them. Even without knowing their past, I could tell that they were destined to be together because the chemistry was just that well written. I really enjoyed the way Ilsa Madden-Mills created their characters as very complex ones that had many hidden traits, which kept me intrigued the whole book.
Dax was the main selling point for me with this book because you can never go wrong with a hot British boy. Throw in the fact he's tattooed and a bad boy, and you have yourself a winner. He was everything I could have hoped for, plus a little more. I loved the intensity of his character but how he sometimes showed his softer side. I felt for him each time his mask slipped and we saw beyond that to the vulnerable young man he really was.
Remi was an okay character, but for me she was the main reason this wasn't a major winner for me. I didn't hate her, I guess, but her inability to make up her mind about her ex got to be a little too frustrating. I really didn't like how he was in the story so much, and I just could have done without that extra drama.
Overall, this is definitely a recommend from me and I think many people will love the story. The author takes the old, cliched romance of Romeo & Juliet and puts a light, modern twist on it, turning it into a captivatingly sweet story.
English Series
Dirty English (English #1)
NOW ONLY $0.99
About the Author
New York Times and USA Today best-selling author Ilsa Madden-Mills writes about strong heroines and sexy alpha males that sometimes you just want to slap.
She's addicted to all things fantasy, including unicorns and sword-wielding heroes in books. Other fascinations include frothy coffee beverages, dark chocolate, Instagram, Ian Somerhalder (seriously hot), astronomy (she's a Gemini), Sephora make-up, and tattoos.
She has a degree in English and a Master's in Education.
When she's not pecking away on her computer, she shops for cool magnets, paints old furniture, and eats her weight in sushi.
Twitter: @ilsamaddenmills