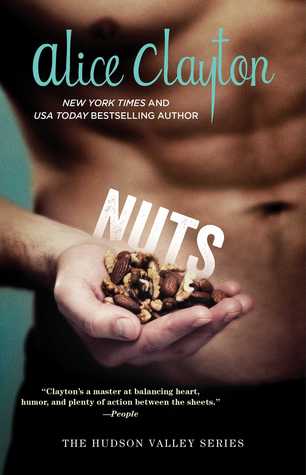 Title: Nuts
Series: Hudson Valley Book 1
Author: Alice Clayton
Add to
Goodreads
*Synopsis*
From New York Times bestselling author Alice Clayton, the first in a brand-new romance series telling the humorously sexy tale of Roxie, a private chef who gets a taste of love—but is it to stay, or to go?
After losing almost all of her clients in one fell swoop following an accident involving whipped cream, private chef to Hollywood's elite Roxie Callahan gets a call from her flighty mother, saying she's needed home in upstate New York to run the family diner. Once she's back in the Hudson Valley, local organic farmer Leo delivers Roxie a lovely bunch of walnuts, and soon sparks—and clothing—begin to fly. Leo believes that everything worth doing is worth doing slowly…and how! But will Roxie stay upstate, or will the lure of West Coast redemption tempt her back to Tinseltown?
~BUY LINKS~
Roxie works as a private chef in LA. Well, actually, worked , until butter screwed up her career.
As a favor to her mom, Roxie is coming home to the little town where she grew up, but also where she promised she would never come back.
Now, back at home, she's going to run the family diner for three months; after this period, she promised herself that she will forever go away from this little town..
But what life is unpredictable?? What if the perfect man shows up at her door?

You know that you have just read a good book when you get to the end and you're both happy and depressed.
Happy because you just finished reading an AMAZING book, a story that made you feel good and that went straight to the list of the best books of 2015..
Depressed because:
1) You have to go back to real life.
2) the book is over.
WARNING:
Don't read this book in public. You may start laughing like crazy...
Don't read this book when you're hungry or when you don't have food on hand. I'm serious.
When I started reading it, what I was expecting was a funny romance book. I had only read Wallbanger by Alice Clayton (that I loved SO much), but I knew I was in for a treat.
I started it while I was in public and I had to contain my smile and laughter..Roxie was sure as hell an hilarious character. But what I didn't expect from this book were the off the charts hot sex scenes and really sweet moments that gave me butterflies..
I loved both characters. Leo was amazing and I can say, without a doubt, that he's book boyfriend material and women will swoon over him..
Roxie was a tough cookie..she was a damn great heroine and there is something that made me feel instantly connected to her..BEES TERROR!!
This book made me wonder why I haven't read more books by Alice Clayton. I'm really curious in reading Grace's story now and I will, ASAP!
I seriously recommend this book to EVERYONE! It's a book that will make you feel good, that will make you swoon, dream, laugh..a story that will give you so many great feelings.
I wish I could unread it and read it all over again! Definitely recommended!!