Nicole James, author of the Evil Dead MC Series
Nicole James grew up in the suburbs of Chicago. As a child, she wrote her first book, Charlie the Firefly, at the age of eight. Her mother knew long before she did that she would someday become an author. Growing up, she spent many happy weekends and summers in Michigan at a cabin on a lake. Winters, she loved to ski. As an adult, Nicole has traveled all over the West and South. She has lived in Illinois, Arizona, Georgia and Alabama. She has a love of motorcycles, writing, reading and the beach. Her favorite city is New Orleans. She loves music of all kinds, but especially the blues. She has two wonderful sisters, two fabulous kids, one awesome son-in-law, and an adorable granddaughter.
Can you tell readers a little about your Evil Dead MC series and where you got your inspiration for it?
The Evil Dead MC series is about a bunch of badass alpha bikers with soft hearts for the women they love. Above all they are a brotherhood that have each other's backs through thick and thin. They also love to rib each other endlessly. I've been around bikers for over twenty years, so they were definitely the inspiration.
When writing, do you plot and plan your stories before you start them?
Absolutely! I have to have the plot all worked out before I start writing. I have to know where the story is going. I have to know what my characters' motivations are, what they want, what they need, what are their inner conflicts, and what outer conflicts they'll face. I use a loose outline of what order events, revelations, etc are going to happen in. Then of course once I start writing, the characters take over and sometimes they may change the direction slightly. Sometimes it surprises even me the things that come out of their mouths once I start writing.
The fifth book in the Evil Dead MC series has just released, do you plan on writing more in the series? If so, how many more books do you envision?
Definitely! Blood from the New Orleans Chapter is getting a story. Hammer from the Birmingham Chapter is getting a story. And I'm going to be writing a short novella (20,000 words or so) that will first appear in an anthology that OAMC (Outlaw Authors Motorcycle Convention) will be putting out for charity. I will then later release it separately. I haven't decided on which character I will write about. I hope there will be more to come after that. I am also starting a new series of four books that I hope my fans will love. It is based on characters that I first introduced in WOLF. It is about four brothers that own a tattoo shop together called, Brothers Ink.
How did you research for a novel based in the MC world?
I have done research. Some of it is real, some of it is made up. Over the years I have known members of several different real MCs. Names you would recognize, but I'm not going to reveal. Their average day isn't always blood and guts, murder and mayhem, but you have to make it interesting for the reader. So, yes, you will find violence in my books, but there's a lighter side, too. One thing I know about bikers, they all have a wicked sense of humor and rib each other endlessly. So, something you see in my books that you probably don't see in books by other authors is humor. My characters 'cut-up' with each other all the time. Fun fact...I really do know a Crash. He's a member of one of those MCs I talked about and I named one of my characters after him.
You write romance, but do you read any other genres? If so, which ones?
I read bestsellers like John Grisham, Janet Evanovich, Nelson DeMille (My favorite of his was The Gold Coast) I also like to read military books like American Sniper, Lone Survivor. History books like The Greatest Generation.
Putting your work out there can be a scary, nerve-racking thing. What gave you the courage to publish your books?
It is absolutely scary. It's like sending your baby off to the first day of school. You send them out into the world and just hope everyone will love them like you do. I've always been writing stories, but I probably never would have had the courage to send them off to a publishing house. Thanks to Amazon and Kindle Direct Publishing it made it possible for me to 'take a shot' and put my book up there. I put it up one night with no fanfare, no facebook presence, nothing. The next morning I had sold twelve books. I was shocked that anyone could even find my book in a sea of hundreds of thousands. I guess I hit the 'biker romance'' genre at a time when it was growing in popularity, but yet there were not a lot of authors writing that genre at that time. And maybe a little help from above. And now two years later, the release of Ghost will put me over 100,000 books sold. Never in my wildest dreams did I think that would ever happen. I'm still just as excited as I was selling those first 12 copies.
Do you read your reviews? How do you deal with the negative ones?
I do read my reviews. I think there is a lot to be learned from them. I won't lie, the negative ones can hurt, but I try to take the criticism constructively to see what I need to work on or what I can do better.
What is the best advice you've gotten in reference to your writing?
I once heard Sylvia Day speak, and she was talking about having writer's block, and she said she finally figured out that the reason she was stuck was because she was trying to force a character to do something that he would never do, something that was totally against his personality. She was talking about writing a Hero to be with a certain heroine, and she said the character finally spoke to her in her head and said, "Why are you trying to make me be with this chick? I'd never be with this chick." And then it all clicked for her, she revised the character and her writer's block was gone. I thought that was so helpful. It makes me really think, what would this character do? Would he really do what I'm trying to make him do? I think about that all the time now, especially when I'm writing dialogue. I ask myself, would he really say that?
Fun Questions
Favorite book boyfriend?
Too many to pick just one. I think for me it all started (way back when I was about 16) with Steve Morgan from Rosemary Rogers' book, Sweet Savage Love
Favorite music genre?
Blues, rock, country. I love it all. I'm a big fan of the Allman Brothers, Stevie Ray Vaughan, Kenny Wayne Shepherd, Tab Benoit. Delbert McClinton, Brantley Gilbert, Casey James, Florida-Georgia Line. I can keep going but I'll stop now.
Favorite vacation spot?
The beach. Specifically, the gulf coast. I have a favorite beach house right on the beach down in Ft. Morgan, AL near Gulf Shores that I rent whenever I get the chance. It was inspiration for some of the scenes that you saw in Shades. I also LOVE New Orleans! You saw some of that in Shades and will be seeing more of that town in Blood's story.
Dogs or cats?
I've had both. I love them all! (here's a fun fact...in Crash, Shannon talks about how she named all her cats after famous guitar players. Yes, that was straight from my life. I've had an Eddie for Eddie Van Halen, a Buddy for Buddy Guy, etc.)
Cliffhangers or HEA?
Personally, I hate cliffhangers. It's like selling a chapter at a time. A book should have a beginning, a middle and an ENDING! Ha ha, but that's just my opinion. Some people love them.
E-books or paperbacks?
Before I tried an e-reader, I was a firm believer in paperbacks. "I like to feel the book in my hand," I would say. But after I tried e-books, I would never go back! I love them! I love being able to read them in the dark. I love having a thousand books tucked in my purse. I love how easy it is to peruse new books, see the ratings, read the reviews, the synopsis, the samples, and buy them on Amazon and have them instantly. And I don't have to leave the house!
Nicole's newest book just releases! Get your copy today.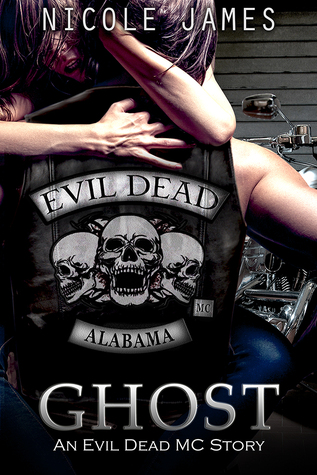 Ghost has been living his life under one rule…never fall in love, never get too close, never get tied down to just one woman. Focusing solely on his club, he is able to remain unattached and free…. until a girl from his past is dropped in his lap. She was a line he swore he'd never cross. And now, in order to obtain an alliance his club needs, he's forced to use her in ways he'd never imagined.
She needs his protection, and she's the one woman he can't refuse.
When Ghost finds himself unable to keep his distance from her, will he be able to push his feelings aside and use her as a pawn for the attainment of his club's goals? Or will he put the club and their lives at risk to follow his heart?
When lies and secrets come between them, can they overcome everything to find their own piece of heaven?
~BUY LINKS~