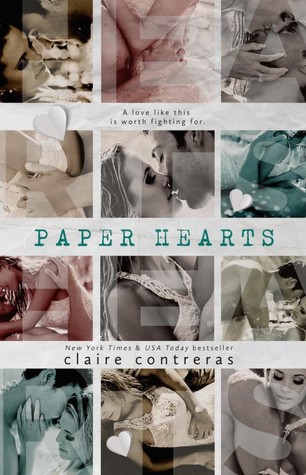 Title:
Paper Hearts
Series:
Hearts Book 2
Author:
Claire Contreras
Add to
Goodreads
I lost her.
No, I didn't lose her. I threw her away.
She was my best friend.
I was never supposed to fall in love with her.
I was careless.
She was heartbroken.
I was doing fine until she came back into my life and reminded me what love was supposed to feel like.
When it's all said and done, she may not want to stay, but this time I'm going to do everything in my power to not let her go.
~BUY LINKS~
Mia and Jensen were inseparable when they were younger and they thought their love story would go on forever. But when Jensen moves to New York to go to school their journey becomes more complicated than they were ready for. They decided to stay in touch while they weren't together but that they will see other people. Things get complicated though when Jensen came home to tell Mia that he got another girl pregnant and that he's going to marry her.
Five years later Jensen is divorced and still living in New York, but he's never given up on Mia. He's written her letters, tried to see her when he's back visiting his friends and has even written about her in his newspaper column. Mia wants no part of it, though, and would rather forget Jensen than forgive him. But then she gets an opportunity for a photography job and feels like she would be missing out if she doesn't take it. Problem: The job is at the same magazine Jensen writes for.
Their lives come together again and they realize that their story was no where near finished yet. Now that Mia is in the same city Jensen steps up his game and won't let his one true love get away this time.
I'm not typically a fan of second chance love stories but after reading Kaleidoscope Hearts and absolutely loving it, I couldn't not read this book. I'm so glad that I did because I fell in love with the story and the characters, especially Jensen. This connection the Jensen and Mia shared was so real to me and as I read their story it became part of my life. I cried with them, I laughed with them, and I loved with them.
I loved Jensen and he was so sweet in an Alpha way which was totally swoon worthy. Most of the story was told in Mia's POV but we got to read Jensen's newspaper column, Jensen Talks and I loved those! His writing was almost poetic in a way and talked about Mia a lot in his writings. I found him adorable and I just wanted to cuddle him all night long - well, after some smexyness ;)
Mia was actually a pretty cool character. The struggle with her feelings felt so real and while reading what she was going through emotionally it felt like I was part of her life and going through it with her. That's the wonderful thing about Claire Contreras, she doesn't write a story for you to read, she writes a story and makes you feel like you're apart of it. Mia did kind of get on my nerves at the end but I got over that during the epilogue.
Overall, I loved this story and it was such an emotional roller coaster that I don't really know how I survived. I struggles a little through the last 20-30% of the book because it became annoying to see Mia being dumb (in my opinion) but I loved the way it ended and the epilogue made the water works start all over again because it was just so romantic.
If your a fan of second chance love stories, or even if your not but are looking for something sweet and heart melting worthy, pick up this book.